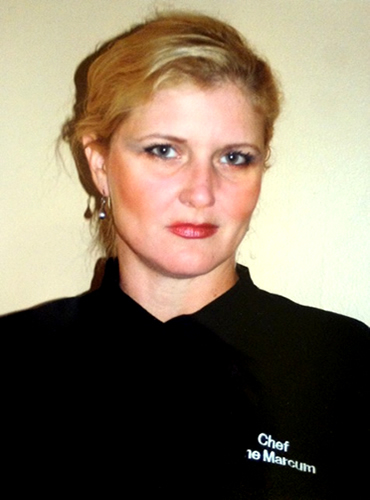 Jane Marcum
Jane Marcum
My interest in food began at a very early age. I was the kid that ordered the most unusual or least tried item on the menu. So one of my favorites was fois gras by age six. Growing up in middle Tennessee there were always vegetables from the garden, meat from the farm, and game that was hunted. We also had the all the things canned from the garden to use during the winter months. We were "farm to table" in the 70s before it was popular.
Hunting is a way of life in our area as well. By age 14 or so it bothered me that so many people I knew didn't really enjoy eating the game they hunted or only knew how to cook it in a very limited fashion. I hate waste, and I am a hunter of purveyance. In other words, I only hunt what I will consume. It is also important to utilize everything possible. This ideal is what initiated my path to understanding the chemistry and culinary skill to prepare wild game in delicious and diverse ways. Sharing this knowledge is something I greatly enjoy. Wild game meat has so little fat often when processed swine or lamb fat is added which diminishes the healthy benefit of the low calorie/low fat/high protein nature of the meat. Understanding the chemistry of the natural form of the meat will lead to some fantastic and healthy meals.
I always had a passion for food which ran a close second to my first which was horses. I was a professional equestrian for many years. Competing internationally in 3-day eventing, also show jumping and steeplechase. In 1989 A great friend and chef set me on my culinary professional path. After working in his restaurant I learned a great deal and went from the line where I expected to reside for the duration to his sous chef very quickly. My time there was very influential and set me on the course to work as a private chef. Since that time as a sailor and hunter myself I focused on working in those two areas so I could still compete my horses. In 1990/91 I worked on my pastry skills with several chefs and added that to my repertoire. In 2008 having retired from equestrian competition began expanding my culinary business.
My culinary roots are Spanish, French, and Italian. As a private chef, I have cooked extensively Caribbean, Central & South American, and Mediterranean, German and Persian cuisines for various clienteles. I consider my travels one of the greatest gifts in my life. The exposure to so many different cultures and cuisines has enabled me as a chef to share with my clients all the flavors.